Context
Open and Distance Education Centre of Tribhuvan University (ODEC/TU), established in 2015 as a constituent of TU, is responsible to implement TU's academic programs through online and blended modes. Additionally, ODEC has the mandate to conduct faculty development programs on a continuous basis in areas of research, academic writing and pedagogical training. In this regard, ODEC since last year has conducted pedagogical training and professional development support for more than 300 newly recruited lecturers. ODEC played an instrumental role to train over 6,000 TU teachers to teach online during COVID-19. ODEC, with the help of the English Language Fellow (ELF), supported/sponsored by the Regional English Language Office (RELO) of the US Embassy in Kathmandu successfully completed the first cohort of the Academic Writing for Publication (AWP) course for TU teachers in the year 2019/20. Second cohort of the AWP is in progress with the help of a Virtual English Language Fellow (FELF), Phillip Taw, supported by the RELO. All the participants of the first AWP course have published their academic articles in journals of different kinds and the participants of the current cohort have been working on their drafts for publication. The AWP course is popular among the TU teachers and building on the strengths of AWP cohorts 1 and 2, ODEC is now planning to establish an Academic Writing Center (AWC) to continue engaging the TU faculty members in academic writing and publication in international journals.
Tribhuvan University leadership has given more emphasis on research and publication in recent years. The university has requested all of its constituent units to allocate 5 – 10 per cent of their annual budget to research and publication. However, publishing the research work of the faculty members has several challenges. "Academic Writing for Social Transformation (AWST)" is developed to address those challenges by developing the capacity of the TU's faculty members to publish their research in international journals.
Need of Academic Writing for Social Transformation (AWST)
Higher education institutions (HEIs) are often criticized on the ground that they are more focused on the intellectual debate of academic issues rather than considering the social issues. But the fact is that academic institutions cannot earn their credibility unless they earn social credibility. The HEIs are a part of society and society cannot support them in true sense unless society can see the contributions of the HEIs in the social transformation/change. Academics often think that academic writing can be done only on academic issues. Due to the lack of connection between academic programs and social issues, university teachers find it very difficult to connect the social issues in their academic publications. Thus, this program will make an attempt to empower the TU faculty members in connecting their academic research on social issues in three different ways:
TU faculty members will make an effort to connect the academic research on the social issues in which the faculty members will identify the community issues/challenges to explore the potential strategies to address them.

Nepal is very rich in diversity and those diversities are associated with indigenous knowledge. Traditionally, Nepal has a wonderful oral tradition and the knowledge gets transferred from generation to generation through oral means. Due to the lack of documentation, traditional knowledge is disappearing. If they could be explored and documented will, we can not only cherish the wonderful heritage of our ancestors but also continue their legacy for social harmony. Through this workshop, TU faculty members will be empowered to identify those indigenous knowledge and practices, document them with academic rigour and publish them nationally and internationally.

The world has become a global village and we learn both from local and global experience. Due to the lack of adequate publications on local knowledge, global community has not been able to learn from the third-world countries. Thus, through this academic writing workshop, TU faculty members will be empowered to expose the global community to the indigenous knowledge and practices of Nepal.
In order to make this happen, a systematic approach is needed to orient the faculty members in identifying the areas for their academic research, collecting the qualitative data from the community, processing the information with academic excellence and presenting it to the global audience. This program is developed to operationalize this process in TU.
Academic Writing For Social Transformation (AWST): ToT Training
Open and Distance Education Centre (ODEC) conducted a six-day TOT Trainng at Kathmandu on Academic Writing for Social Transformation, focusing on relating local practices and indigeneous knowledge in preparing research articles.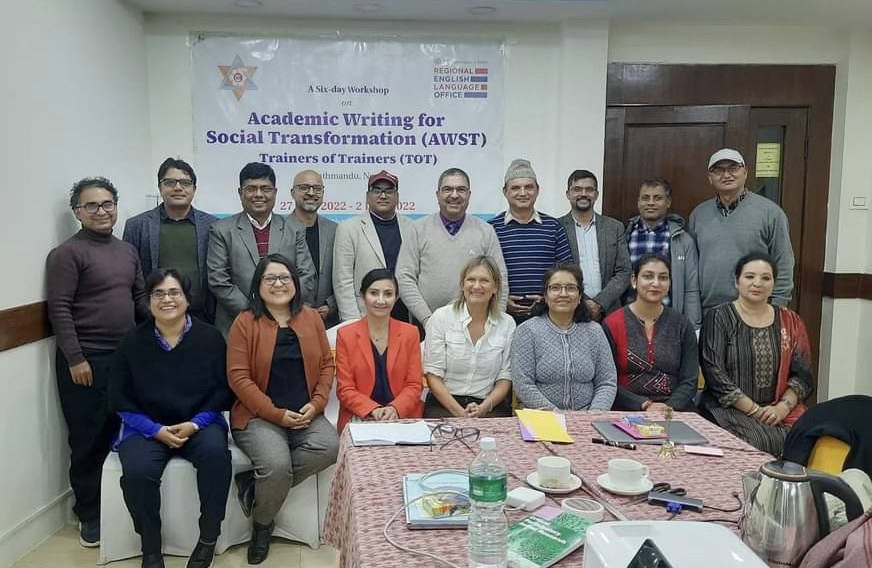 Call for Participants
Academic Writing For Social Transformation (AWST) announces the call for participants in different five locations: Surkhet, Baglung, Biratnagar, Lalitpur and Kathmandu for the faculties teaching in the affiliated and constituent campuses of Tribhuvan University.
We are conducting training at Kathmandu from 11 -15 March, 2023
Link for the Registration: https://forms.office.com/r/kEYRSRGePP
QR Code for Registration
---